Model Your Transportation Projects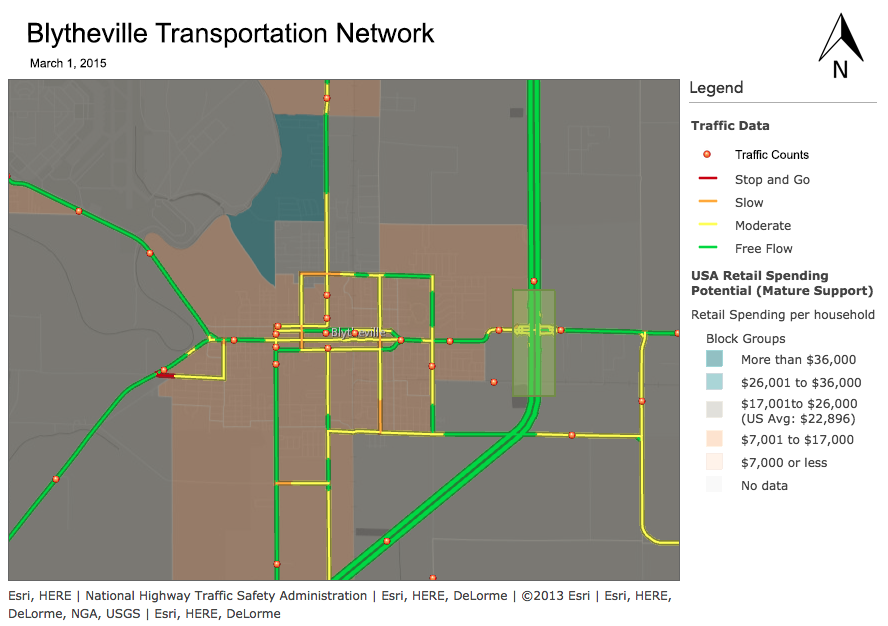 Most prioritized lists of regional transportation projects begin with the existing transportation network. Your current network will include:
The existing federal, state, and local roadways;
Funded projects that are, or will be, constructed;
Network performance data including traffic, accidents, and average speed; and
Special activity center or corridor designations.
To view this document offline, click here: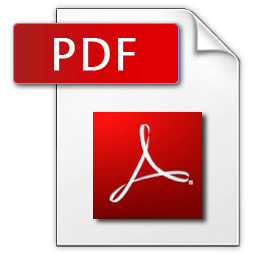 This tutorial will guide you through the process of modeling your existing transportation network. Below, we will use ESRI's ArcGIS Online. Scroll down to get started. To return to the main field guide page, click here.
STEP ONE
Intro to ArcGIS Online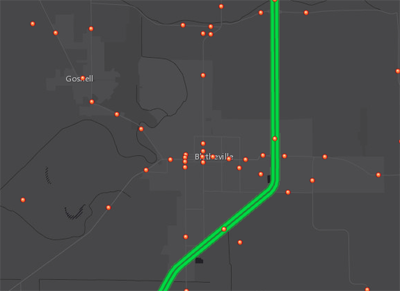 Let's take advantage of a service that has already collected millions of datasets – ESRI's ArcGIS Online. Click here to visit ESRI's Map Viewer.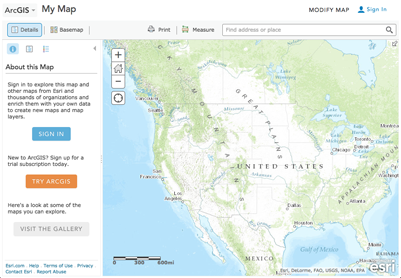 For most of this exercise, you won't need to sign in or sign up to be a member of ESRI. However, you should consider it if you want to save and share you finished map (end of step 5). You can also stay up to date in the GIS world and have access to some of their other services. Click here to sign up.
You may be unfamiliar with using any other map viewer aside from Google Maps. This works exactly the same, some would argue better. Take notice of the navigation tools at the top left.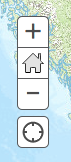 The crosshairs will zoom to your computer's destination (if you allow your location to be accessed); the plus and minus buttons will zoom the viewer in and out; and the house button will return you to the "home" extent which is a view of the entire United States. Use the mouse to adjust the extent.
The quickest way to find your location of interest, is to use the search bar located at the top right of the screen. For this exercise, we will assume we are located in Blytheville in Mississippi County.

You will notice as you type in your location, the autocomplete function will assist you.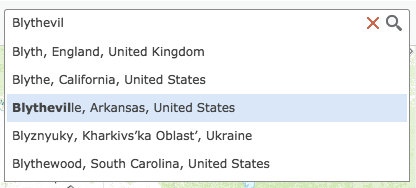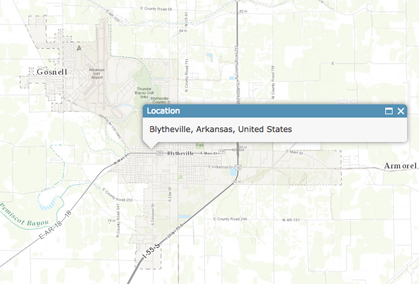 Now that we have arrived, in the next step we will begin to add some data to our map.
STEP TWO
Adding Web Layers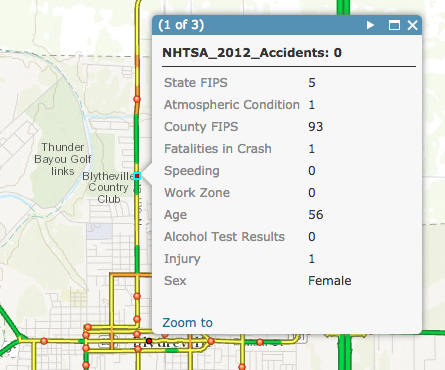 Now we will begin adding data to our map using the existing datasets within ESRI's database. Start by clicking Modify Map button at the top right of the screen.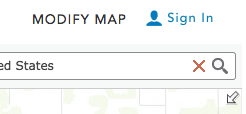 You may have noticed at the top left of the screen, a new icon with the word Add has popped up. This is how you will add new data to the map.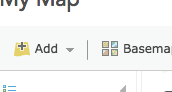 Click Add and select "Search for Layers" to browse all of ESRI's available layers. ESRI has over a million available datasets available globally, so we will use the search box to narrow down our search.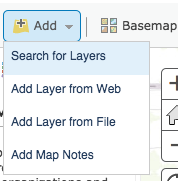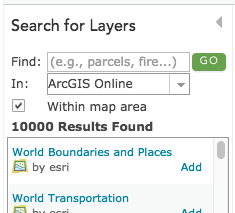 Let's search for traffic data, by entering "traffic" in the search box. Then add a layer by clicking "Add" next to the corresponding layer you are interested in. Below I found traffic counts and traffic flow ratings.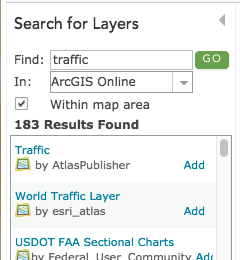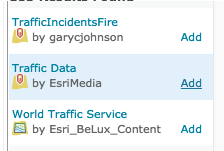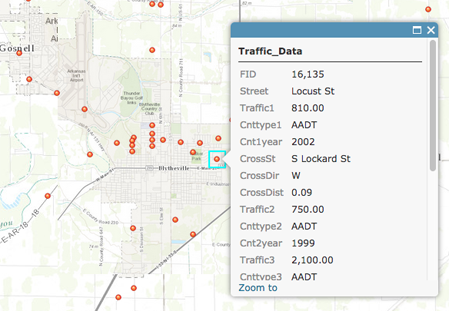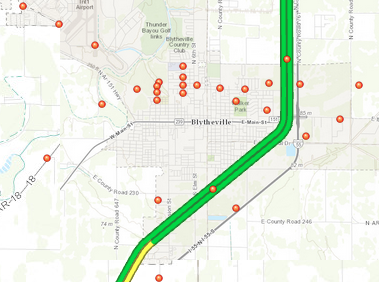 Note: ESRI has so many layers because they allow all of their users to add to their database. You may notice some layers do not show up within your map, this may because the layer is local and/or geography specific.
If you want to remove a layer, click the "Remove" button.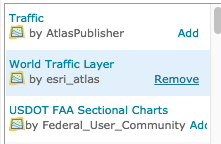 If you are curious about some of the data in the viewer and want to find out more specifically what it means, check the legend. Click on the Details button, and then click on the Legend button. The legend will show you some more information about what you are viewing.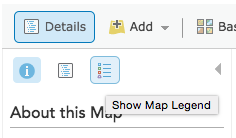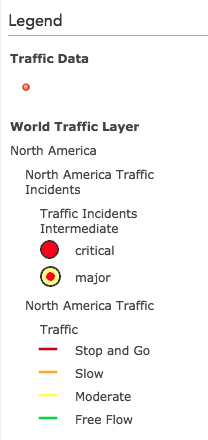 Now, let's search for other valuable transportation data: accidents, retail spending (a trip attractor), and road network.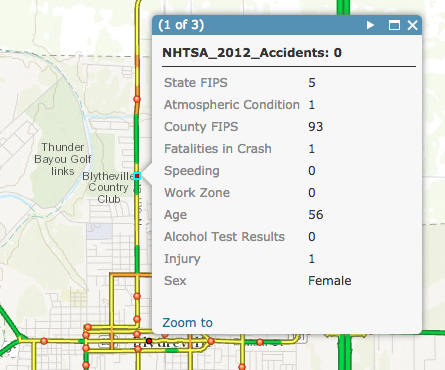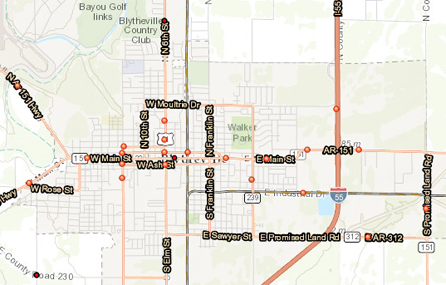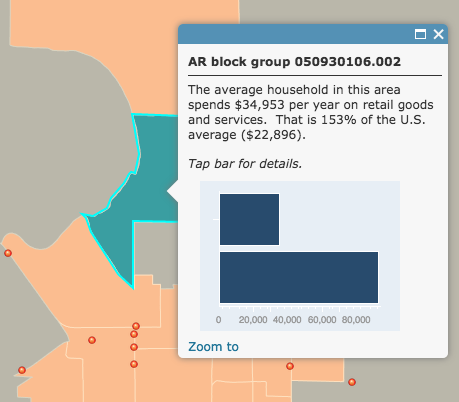 In addition to removing layers, you can also reorder layers if they are overlapping. Within the Details section, there is a Content button which allows you to turn on/off layers, adjust transparency, and also drag-and-drop to order the layers for visibility.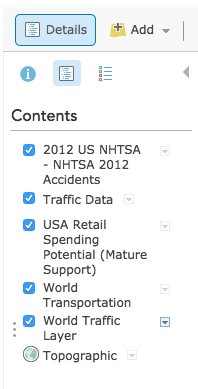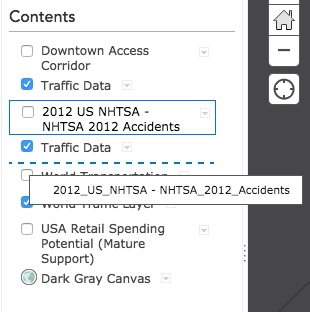 OK, now we've taken advantage of some online datasets, but what if we want to add some custom layers? Proceed to the next section to learn how to do just that.
STEP THREE
Add Custom Layers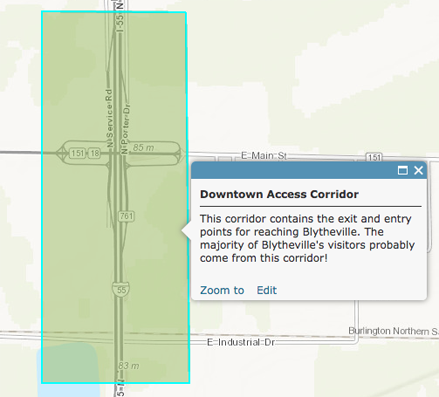 Now is your chance to add custom elements to the map like special activity centers or corridor designations. To start, click on the Add icon and select "Add Map Notes".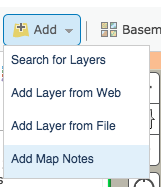 Let's create a corridor. For name, write in "Downtown Access Corridor". Next to template, you can choose from a number of options that give you pre-styled icons and colors. Select "Map Notes" and click "Create".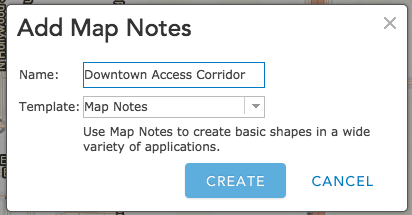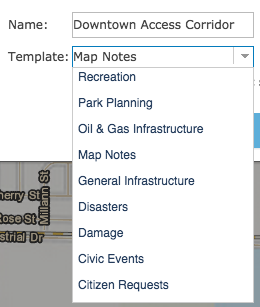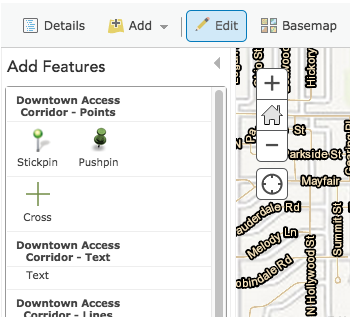 Since we are making a corridor, choose "Area" under Map Notes – Area, then move your mouse over the map and follow the prompts to complete your shape of the corridor.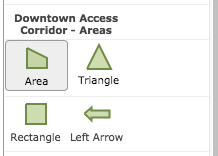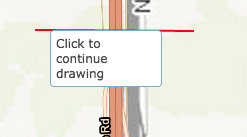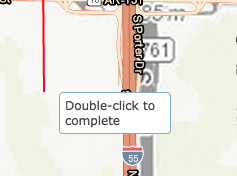 When you are finished, you will have the option to add some data about the shape you just created. Clikc close when you are finished.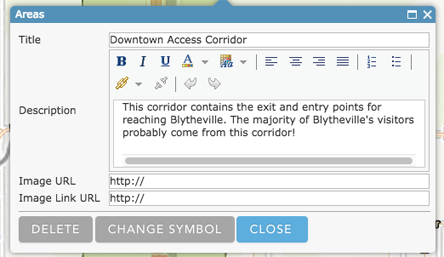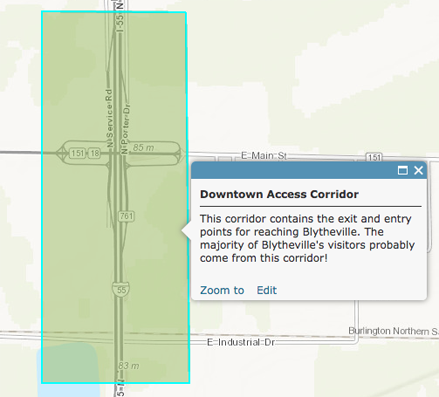 Now you have learned how to add custom layers to your map. Move to the next section to learn more about modifying the look of your map and preparing it for a presentation or sharing it with others.
STEP FOUR
Modify Map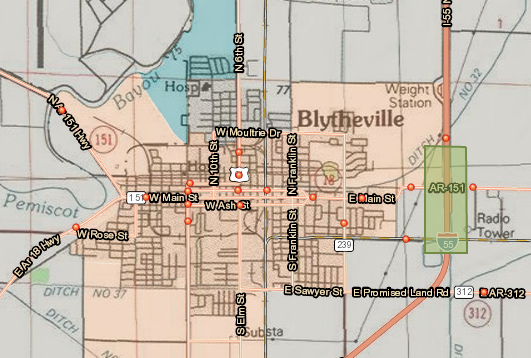 One of the best qualities of a good map is its readability. In other words, how easy is it to understand the data given all the other features on the map (i.e. adjacent cities, contrasting colors, etc). One option for improving the map, is changing the underlying basemap.
To change the basemap, click on the Basemap button located next to the "Add" button. You will see a number of choices that will allow you to adjust the basemap with the click of your mouse.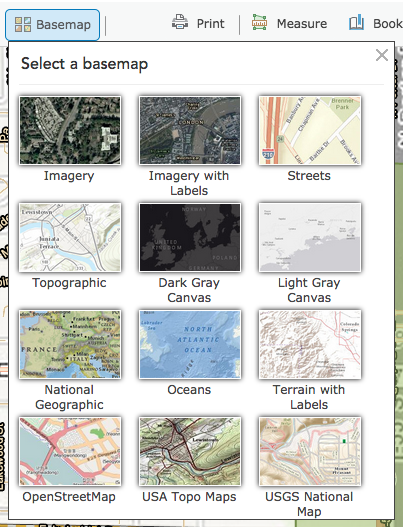 Experiment with different options to see which helps your data stand out the best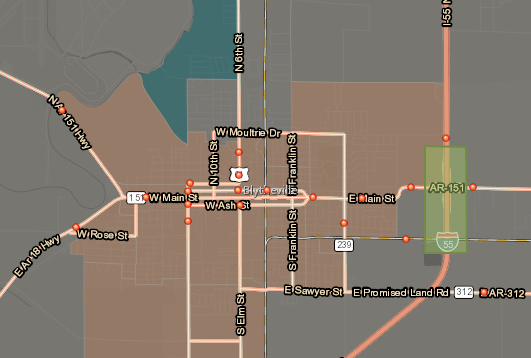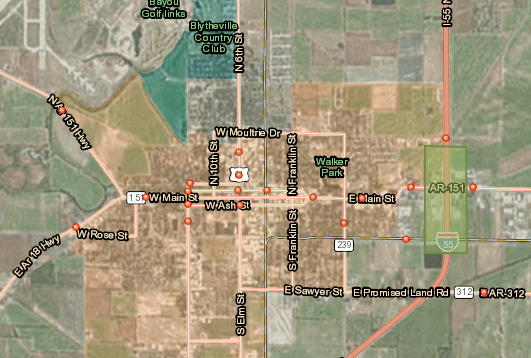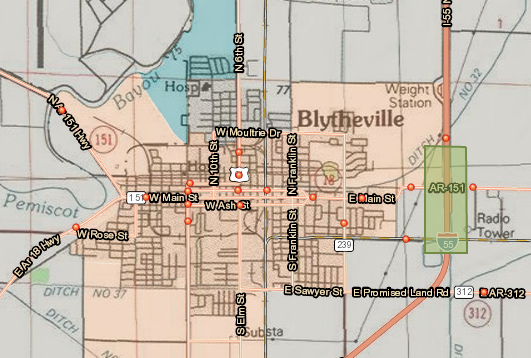 The goal is to remove what you find distracting, without removing what might be helpful to the map's reader. When you are finished, move to the next section to learn how to print and/or share your map.
STEP FIVE
Print and Share Map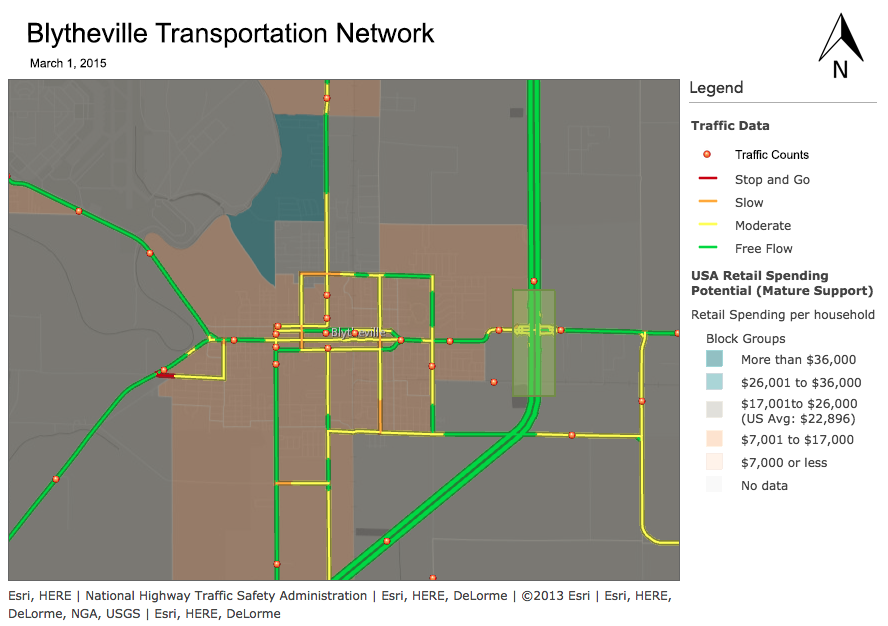 For our final step, we are going to turn our map into one that we can share for presentations, reports, and/or other communication purposes. Click the Print button at the top-center of the screen to get started.

This will open a new window, with our data. Now just use File > Print as you would a normal page, but be sure to save it "as a PDF" instead of directly to your printer and you have a map.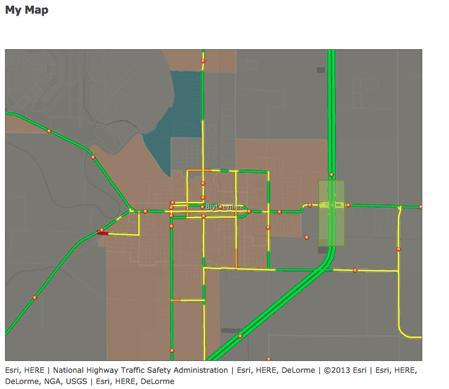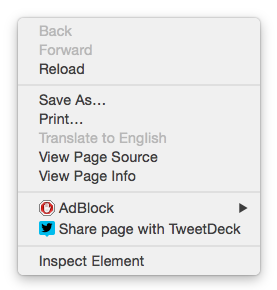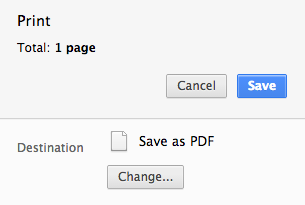 This map is great, but it lacks some key elements (i.e. legend, north arrow, title, etc.). Read up on the Screenshots section from the Tips and Tricks page to learn how to add important features using screenshots. For example, to get my traffic layer's legend to my map, I will have to take a screenshot from the Legend section, and superimpose it on my printed image.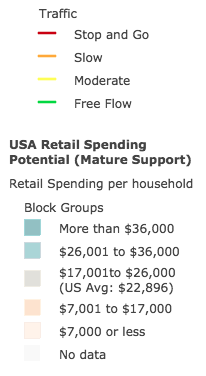 Take a screenshot and add it to your Map PDF. Maybe Google Search for a North arrow as well!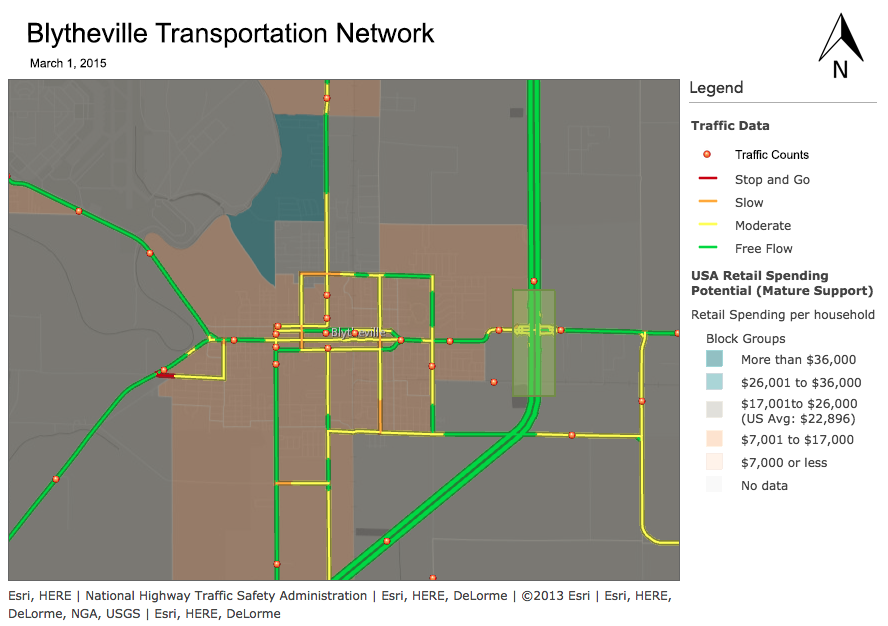 Now we need a way to share our map or save it so we can revisit and explore more of the data. To do this, we will need to sign up for an ESRI account. If you have not done so by now, click here to sign up and revisit the map when you are finished.
You will now notice two buttons appear at the center of the menu bar: Save and Share. These buttons will enable you to do just that!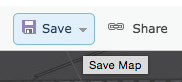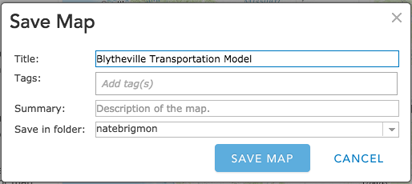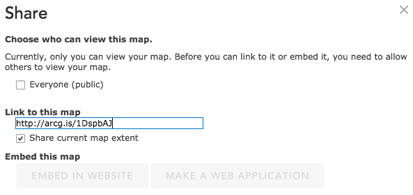 Note: If you zoom out of Blytheville (or your site), you will notice you have also modeled the entire region!
You now have a modeled transportation network!For more information and resources, check out the next tab below. To continue working towards supportive regional transportation planning, choose from the following:
MORE INFO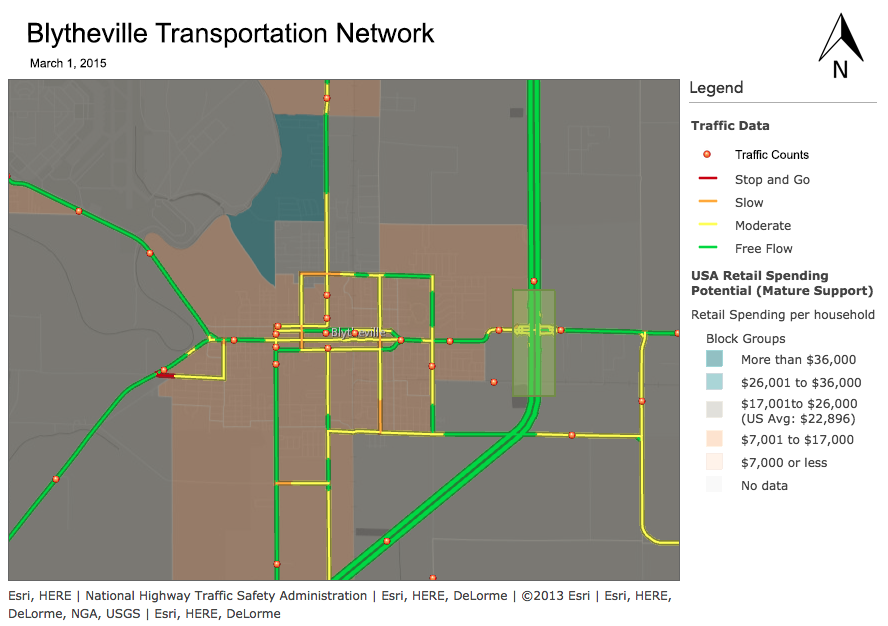 Useful links:
About ArcGIS Online
Learn How to Build Your Own ESRI Application
ESRI's Map Gallery