Issue a Call for Projects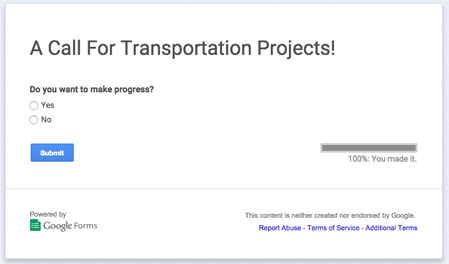 Project prioritization begins with a "Call for Projects" where member governments submit their projects to be evaluated and scored by the RPO. It actually begins with an official letter or announcement requesting that RPO members work with their elected officials to develop and prioritize a list of each county's top three transportation projects. Each county should consider the merit of each project relative to previously agreed to scoring criteria, such as:
System Preservation
Economic Opportunities
Local Participation in Project
The announcement should include a hard copy or digital project submittal form that documents and maps each project. This tutorial will guide you through the process of creating a digital submittal form and map for submitting each RPO member's project.
To view this document offline, click here: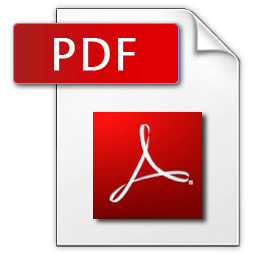 Scroll down to get started. To return to the main field guide page, click here.
STEP ONE
Create A Submission Form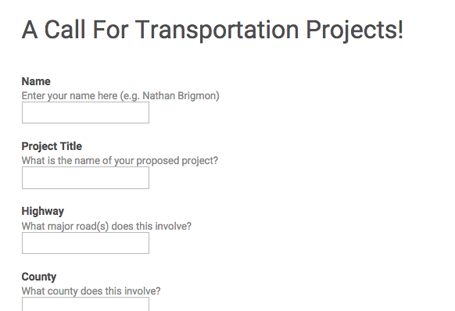 First, we will create a form to get members to enter in their data into a spreadsheet. You will need a Google Account to complete this process. If you have an account, click here to create a Google Form. If you don't have an account, click here to create one.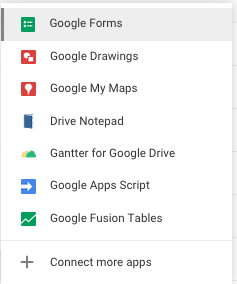 This form will be used to populate a spreadsheet. To Start, give a name to our Google Form by clicking on the "Untitled Form" text.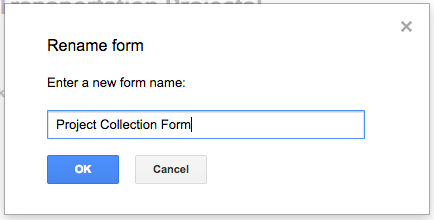 The name of the columns within our spreadsheet will be the name of our question titles. You can also add helpful text if you think it will help. Also, be sure to set the Question Type as Text for each one. Below is an example of a filled out question: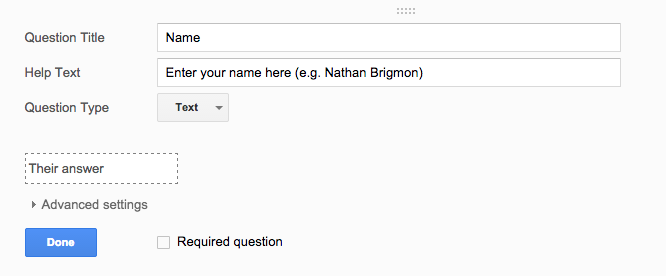 Click "Done" to preview the question. When you are ready to add the next question click Add Item.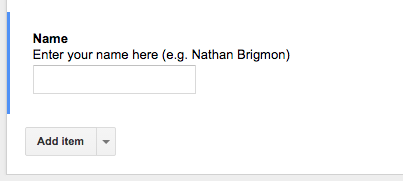 The rest of our column names will be: Name, Highway, County, Limits From, Limits To, Description, and Estimated Cost. Go ahead and add these to the form.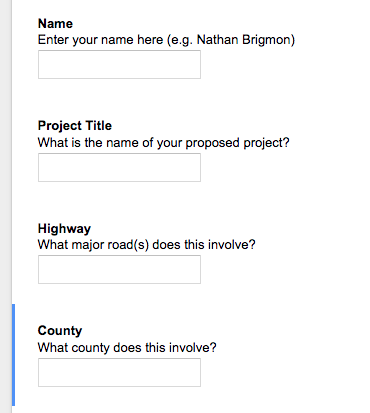 At the top of the page, you will see a button called "View live form". This will help you see the form as an RPO member would see the form.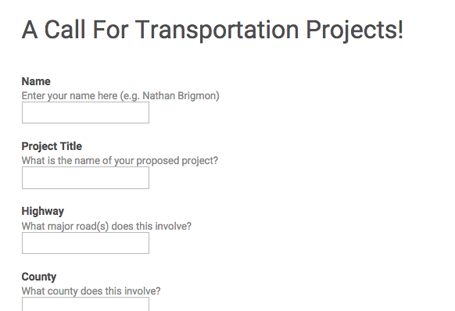 Now our form is set. Whenever you receive responses, it will be filled out into a spreadsheet. To view this spreadsheet. Click "View responses" and give your spreadsheet a name…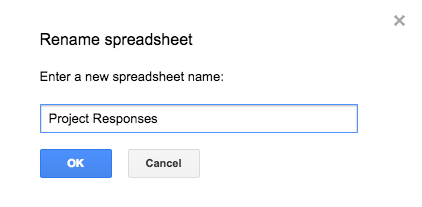 Now our spreadsheet is ready. Go back to the form and find the last box at the bottom of the page. You will see checkboxes to allow responders to edit their answers, view results, or retake the form.

Click "Send form" and you will see a shareable link. Remember how to get this link, you will need it later. If you'd like to test the form, click the link and fill it out yourself – you can always erase the answers since this is your spreadsheet.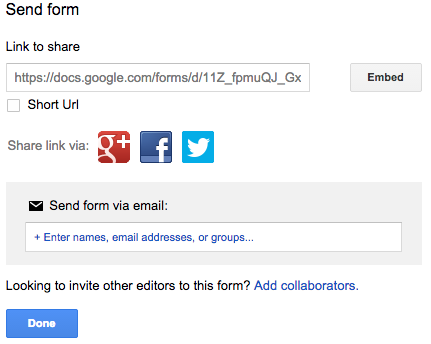 Next, we will need a map for members to show us the location of these projects that they have just submitted. Move on to step two in order to do just that.
STEP TWO
Prepare A Shareable Map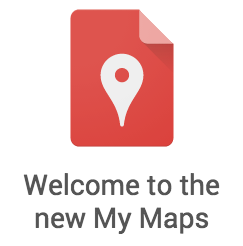 Now, we will ask our members to map their projects using Google My Maps. This process will create a shareable, editable map that will allow RPO members to enter their projects.
Click here to open up Google's "My Maps".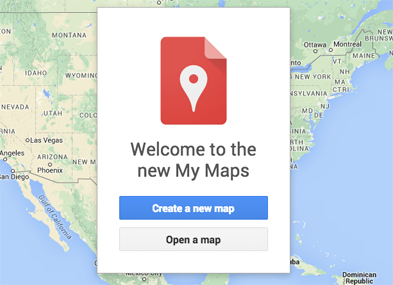 This is the homepage for My Maps. Click the button "Create a new map" button to start.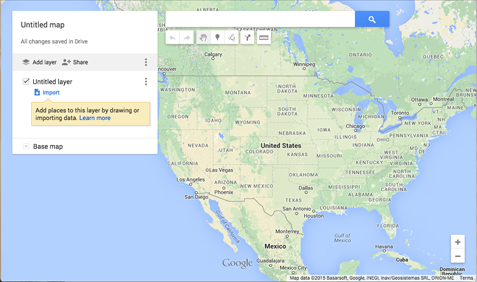 Use the search bar to navigate to our region: EAPDD. Here I'll start typing in Jonesboro and let the autocomplete function take over.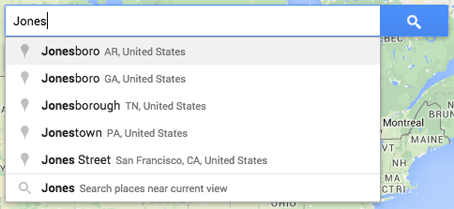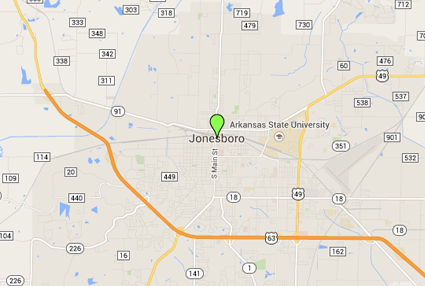 Now change the name of your map. Click on the top left area and you will have the option to edit the Map name and description.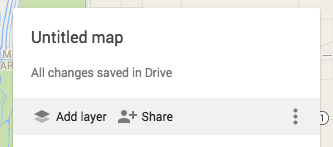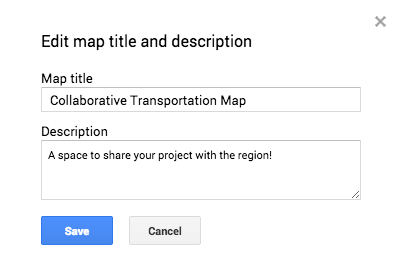 You can also update the base map if you feel like it will help improve your map. Click the Base Map option at the bottom of the menu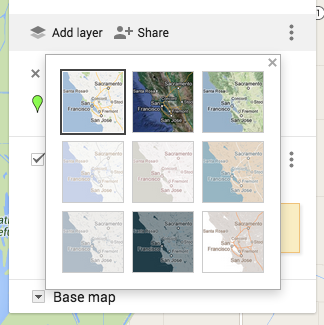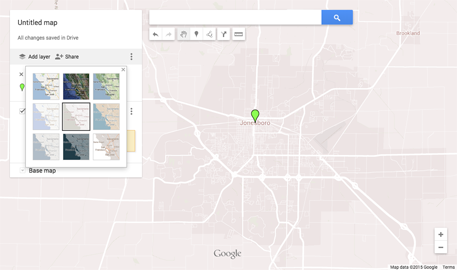 Next, you have the option to import files to help improve your map. Here we will import data from the EAPDD's Data Warehouse. While we can choose many different options, let's just import the city limits within the EAPDD. Click here to visit the Data Warehouse.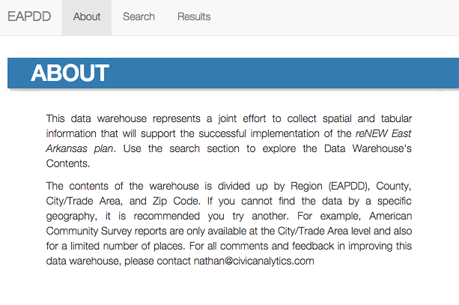 Use the search form to target our specific layer. We are interested in the entire Region, so keep the Geography as Region. Change the Category to "Administrative" and the File Name to "City Limits".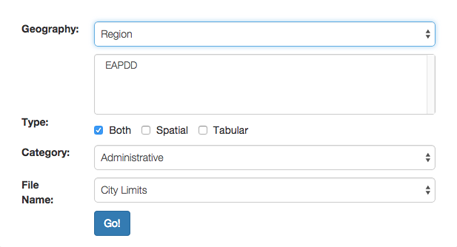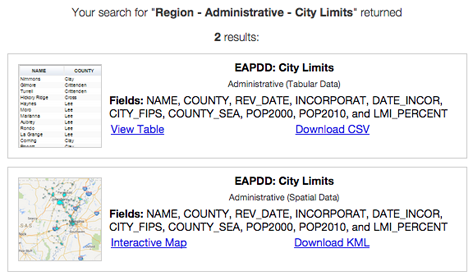 Click on "Download KML" to get the file. Be sure to save it in a place you remember, because you will use it in the next step.

Now go back to your Google Map and click on the import button.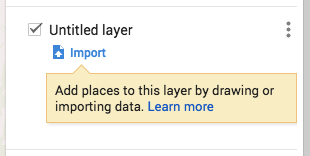 Follow the directions to add the new layer to your map.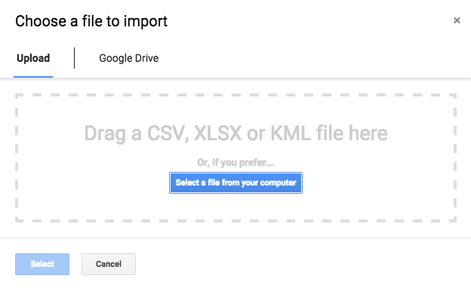 Once it is added to your map, you will have the option to adjust the styles individually or uniformly and present them however you'd like. For example, in the following images, I remove the polygon's inner color and widen the border.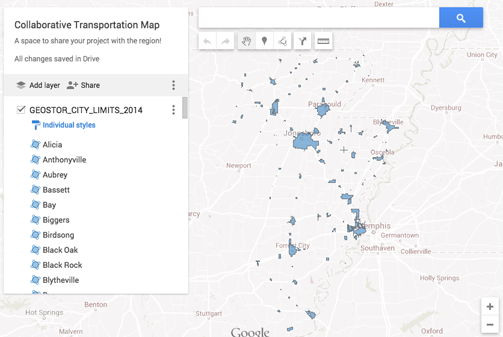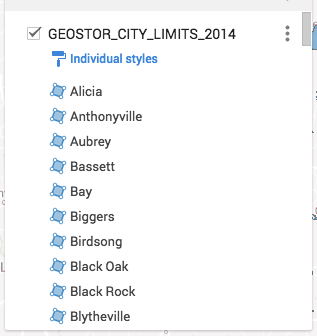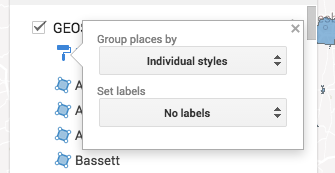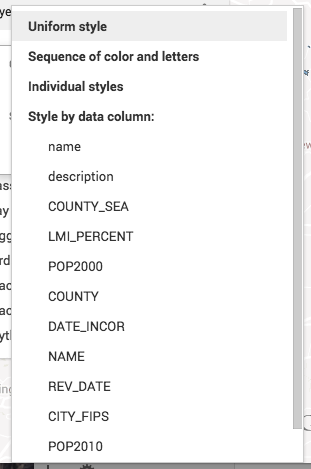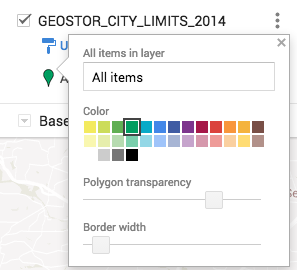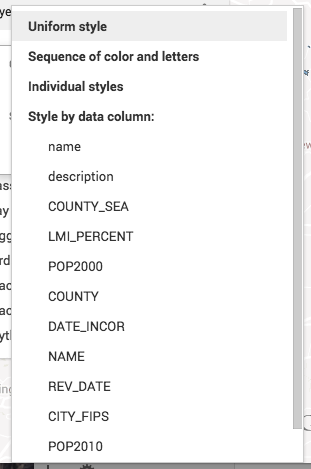 If you think any other layers would be advantageous to the RPO members, feel free to add those as well in the exact same process as above.
STEP THREE
Prepare Custom Layer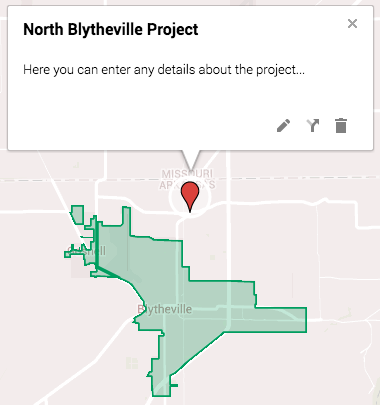 The next step is to prepare a custom layer for RPO members to add their projects. When you send this map out, you will want them to be able to add their projects in the easiest way possible. Here, we will walk through setting up a custom layer.
Under your previous layer(s) you will see an option to add a layer. Click that text.

You will see a familiar option to import or draw a new layer. This time we will set up a layer for customization. First, click the three dots to the right of the text to bring up a menu.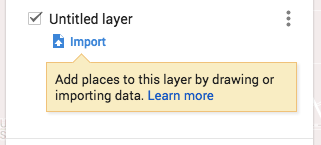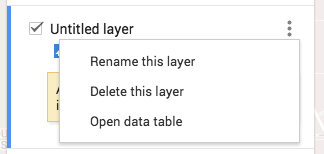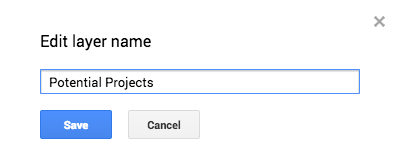 Now we will examine the attributes by examining the data attributes.
Here you will have the option to add attributes if you'd like. We already created the form for members to add attributes, so here we only need a reference. Just know that you have the option to make changes.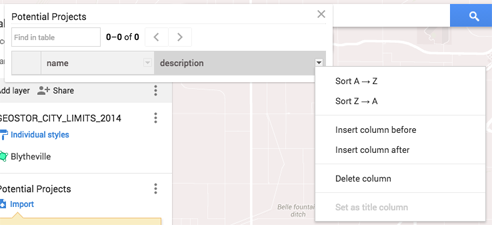 When you are finished, Click the "X" at the top right of the menu box to exit. Now click the Marker Icon to see how this system works. You will need to relay this information to the members when you send out your notice. Feel free to copy and paste this text if it helps.
First, use the map to navigate to the site, county, or city of your project. When you find your area, click the marker to add a potential project.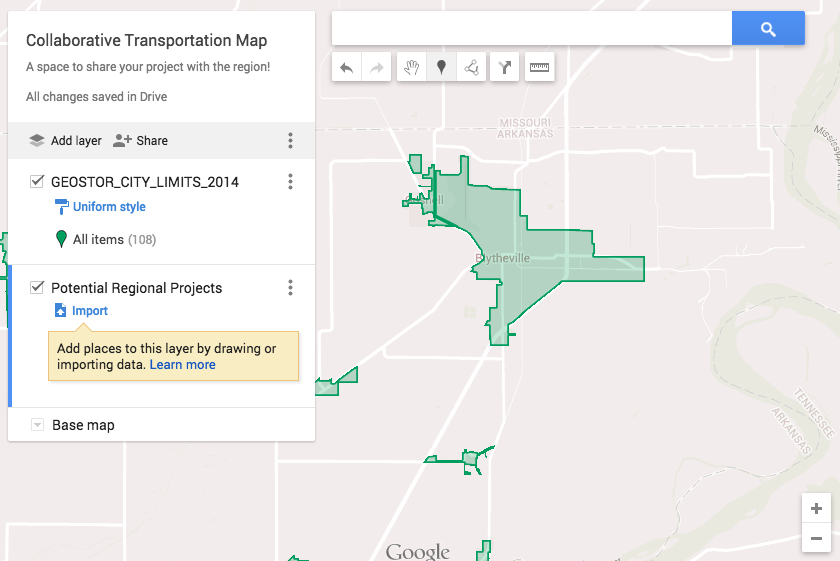 When you click on your area, a box will pop up with an option to fill out the details of the data table you examined earlier.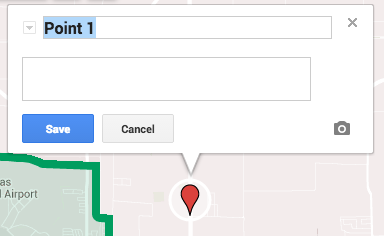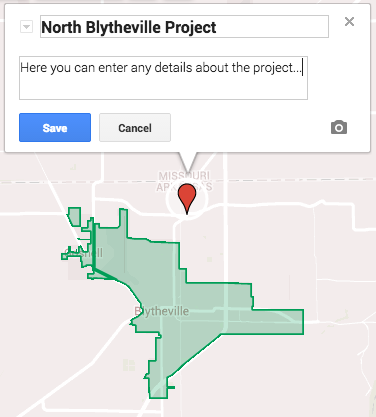 Click "Save" and you are finished!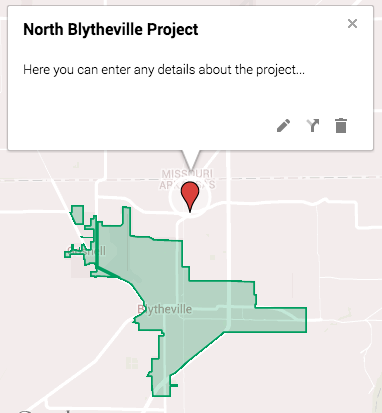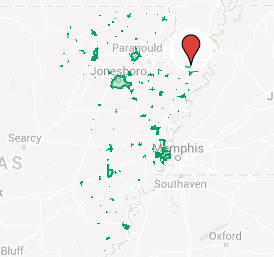 One important detail to relay about adding features, is that the user must click on the layer they want to edit before editing. Otherwise, you will end up adding points to the wrong layer. To know that you are editing the correct layer, a blue selection line will appear at the left of the layer.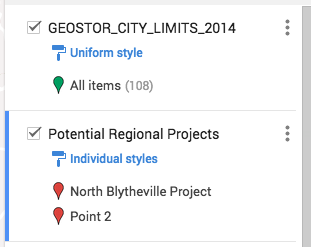 This is all the RPO members will need to know. For this tutorial, you will now need to know how to share your map. To learn this, move on to this next step.
STEP FOUR
Make Your Map Shareable

Once you are ready to share your map with the region (and the world!), click the "Share" button located in the menu on the left side of the map.

You will see a menu to adjust the share settings. It should currently be set to Private with only access to yourself. To change this and allow for other collaborators (i.e. RPO members), click the "Change…" button at the right.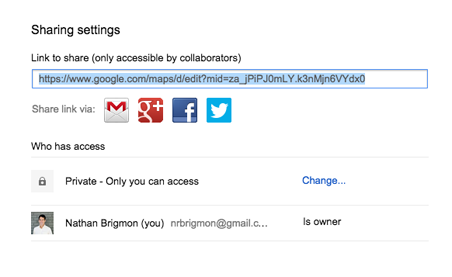 A new window will pop up with options for adjust these settings. You can set your map to the following options:
Public on the web
Anyone with the link
Specific people
Either of these will work for our purposes, but the easiest option is to set it to "Public on the web".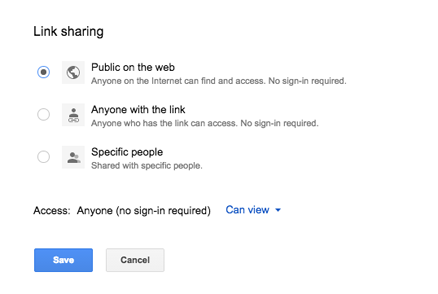 Click Save and you will notice that your Sharing settings have changed.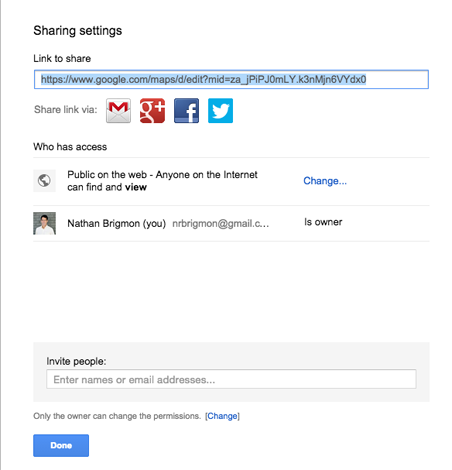 Take note of the link at the top of the window. You will need to copy this and place it somewhere to use later. Preferably, somewhere next to your Google Form link.
So, now that you now have a shareable map, move on to the next step to combine the above steps and issue your call for projects.
STEP FIVE
Draft Your E-Mail

Now that we have prepared a map and form to gain information about our region, we need to issue our call along with the appropriate information. Obviously, you can write the email any way you see fit, but the purpose of this step is ensure you have included all of the important elements like:
Purpose of writing this email

We are writing this email to strengthen Regional Transportation Planning in the EAPDD. Your involvement in this process would mean…

Expectations

Your participation does not guarantee that your chosen project will be constructed, but it does allow you to express your ideas…

Deadline for completing this assignment

The deadline for this project is April XX, 20XX.

Link (or Attachment) to your ESRI map with an explanation of why it's included

To explore the EAPDD's transportation network and assets, use this interactive map…

Google Form Link

http://goo.gl/forms/00aGcFBsx7

Instructions for how to fill it out

Each answer you give will be added to our records and shared with the entire region. Fill out each question one by one…

Google Map Link

https://www.google.com/maps/d/edit?mid=za_jPiPJ0mLY.kUh8GantQTbI

Instructions for how to fill it out

Use the marker icon at the top and click on the map to add your project…

Say thanks!

This is an exciting opportunity and we are glad you are participating…
That's it! Now you are ready to send out your call for projects.
All you have to do now is wait for members to fill out their projects. For more information and resources, check out the next tab below. To continue working towards supportive regional transportation planning, choose from the following:
MORE INFO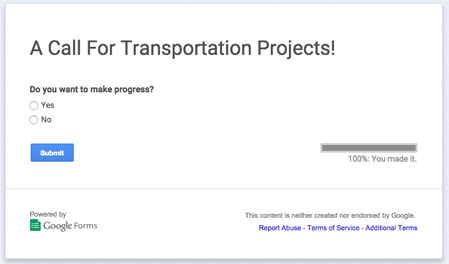 Useful links:
Gallery of User-created Google Maps
More on Free Google Apps