Business Development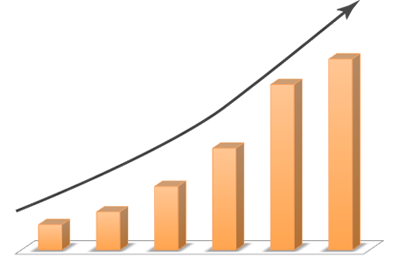 This tutorial will guide you through the process of creating an economic profile for your city. We will use Forrest City, AR in St. Francis County as our city for the sake of example.
To view this document offline, click here: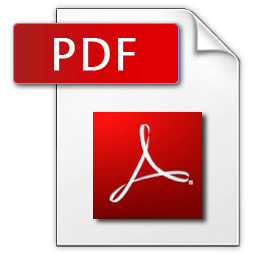 Scroll down to get started.
STEP ONE
The Introduction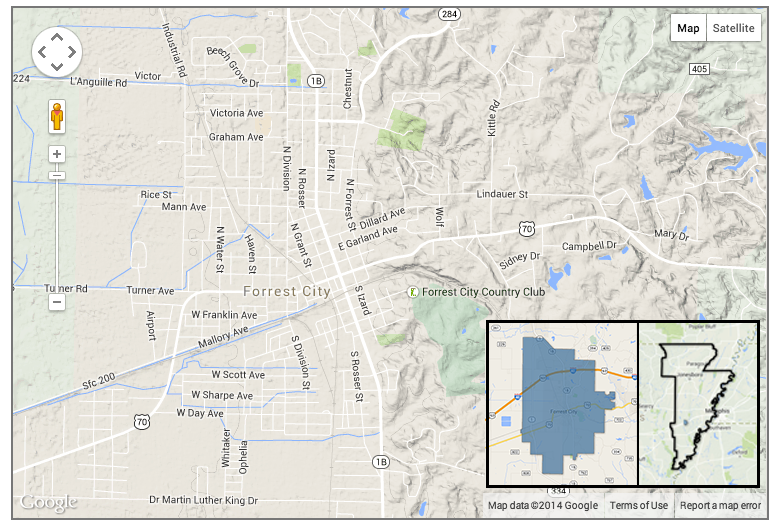 Include a narrative opening to the community economic profile. It should provide:
Brief Introduction (one or two paragraphs) of the community:

Current population and any recent growth statistics. You can collect some of this data at the Data Warehouse or the Interactive Map.
Identify as county seat and largest community in St. Francis County.
Location relative to interstates and major cities (e.g., approximately 47 miles west or 45-minute drive of Memphis on Interstate 40).
Interesting historical trivia, geological characteristic, tourist attraction, etc. (e.g., located on Crowley's Ridge National Scenic Byway which is "one of the most scenic motorcycle rides in the state").

Map

Here you could use the Interactive Map to create one and maybe take a screenshot.
Tips on taking a good screenshot:
If you are using a PC, use the Print Screen button and paste into MS Paint. Use Paint to crop your image appropriately. If you are using a Mac, press command + shift + 4 to open the screenshot tool for outlining your image.
Boundaries are great, too! Use the Interactive Map to add the EAPDD Service Boundary to add some context. This process will involve some cropping and layering of images.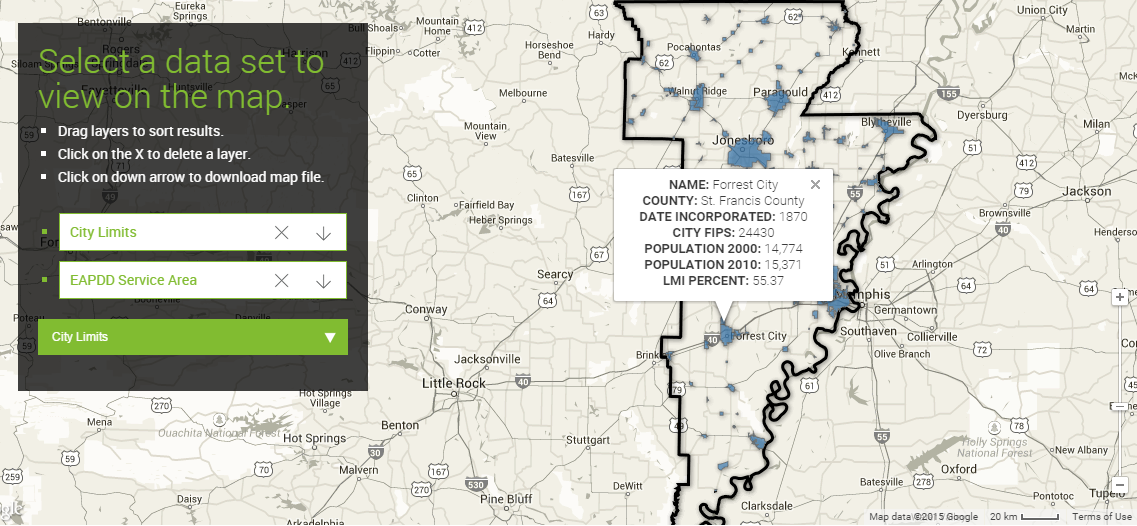 STEP TWO
Major Industries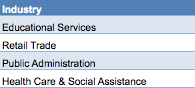 Identify major industries at the county level, where detailed data is available. Include information on the number of establishments, employment, and wages. This data provides an overview of the economy the city operates in, which is important context for people unfamiliar with the region. The goal here is just to provide a snapshot of data that is available—prospects evaluating the community should follow up with city officials or EAPDD to obtain data on their specific industries.
Visit the Data Warehouse and find the Business Summary for Forrest City under Retail by Trade Area.

Choose either the XLSX option and look for the top industries in the area by either SIC or NAICS code. Then click the download icon at the top to download the data

Then, order your industries by number of employees and use Excel to create a Table. Below I removed the sub-industries to make this simplified.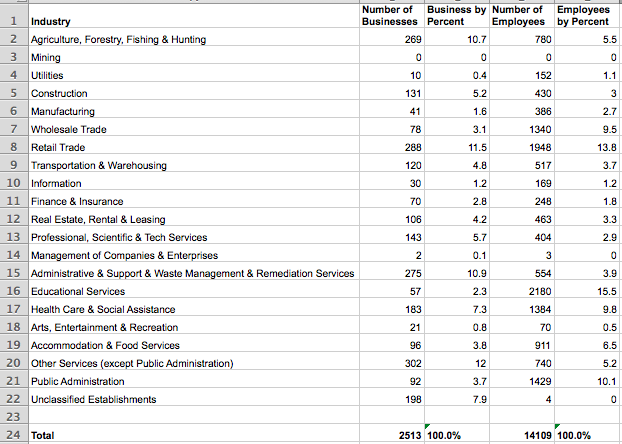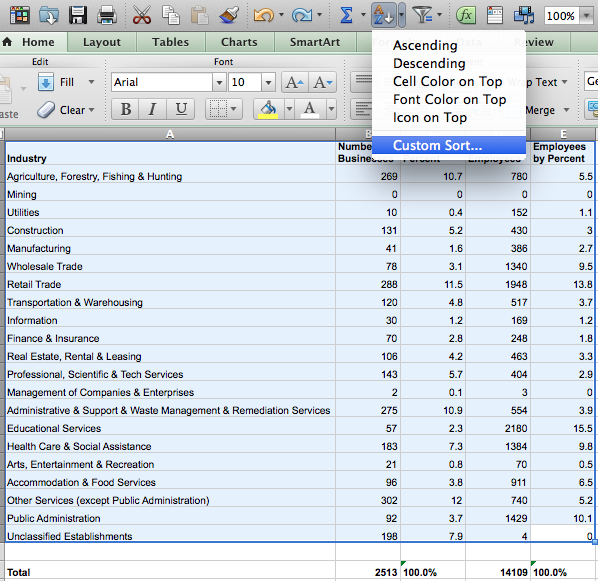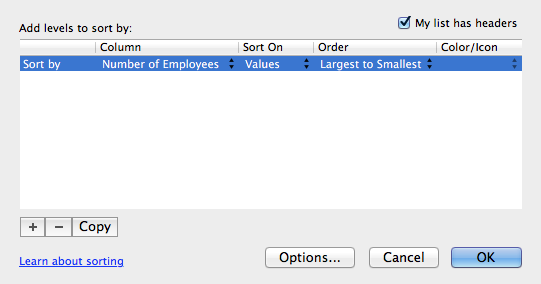 Format it and it is ready for a report.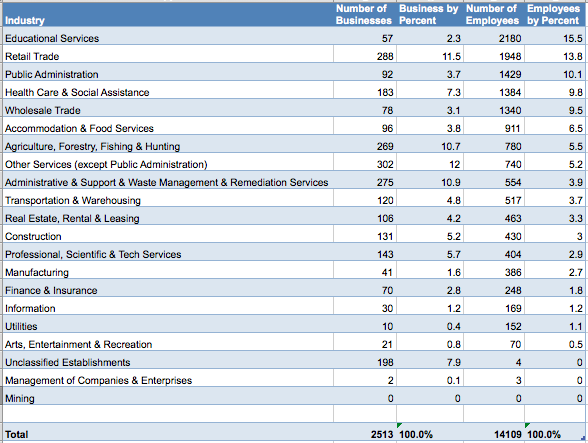 STEP THREE
Clusters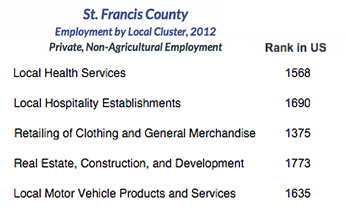 Clusters are geographic concentrations of related industries that share common markets, workforce or infrastructure needs, and supply chains. Clusters are important because they are associated with higher rates of business formation, higher average wages, and greater export activity. Many research analysts and site selection consultants are interested in evaluating a potential location's "ecosystem" because co-locating a company with similar companies can have benefits such as access to workforce with skills specialized for a particular industry or occupation, access to training programs at education institutions tailored for local industry, and communities that are familiar with industry needs. Therefore, economic developers marketing communities should demonstrate expertise with industry and cluster data.
Let's create our own cluster chart by going to the US Cluster Mapping Project. Use the search bar at the top-right of the screen. Enter in the county, St. Francis and (without hitting enter) scroll down for your results.


After clicking on the link, you will be taken to a region dashboard summary for St. Francis County.

Click on the Cluster Portfolio tab to see a list of all the dominate clusters in this county. You can view traded or local clusters by employment, wages, job creation, specialization, or time series. You can also do this by different years.

Next, take a screenshot or use the download or screenshot button to download a table or screenshot.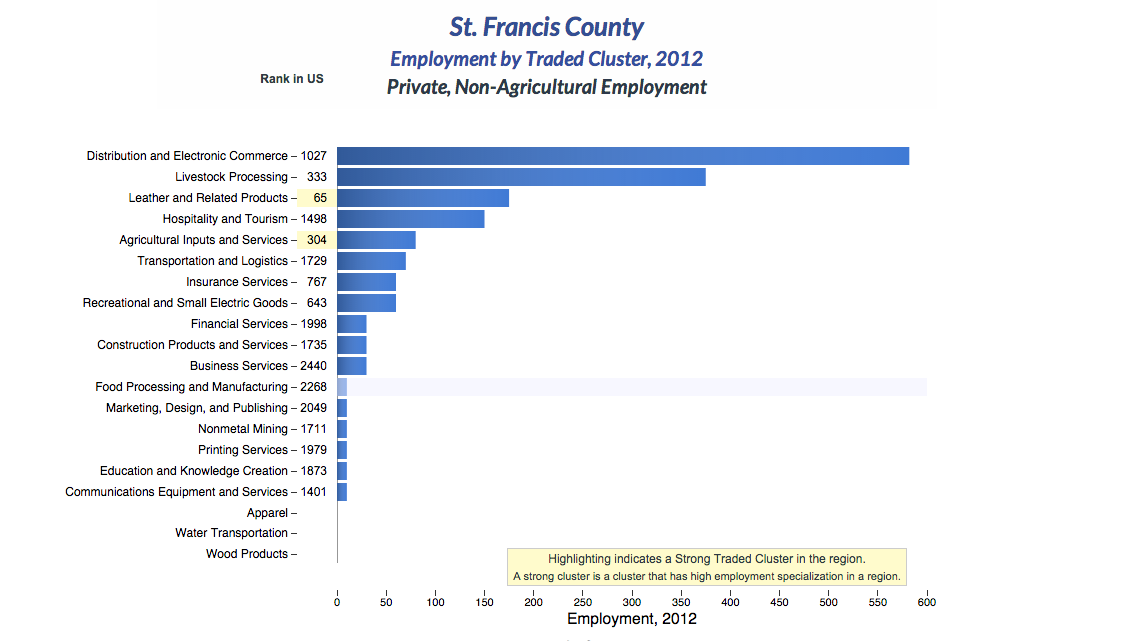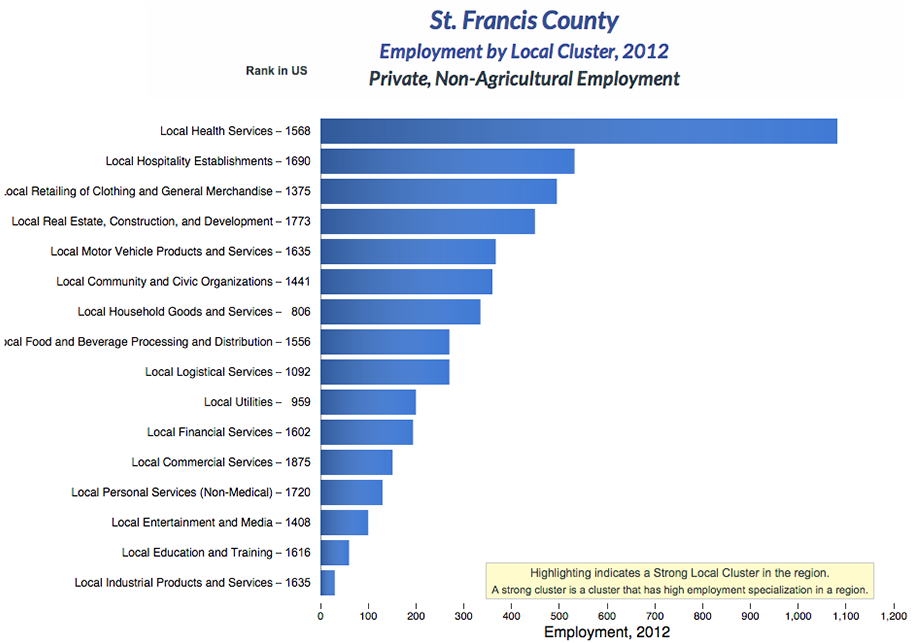 Click on the individual rows to get a solid number for each cluster. Enter this into a table and add these charts and tables into the report.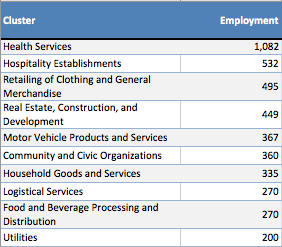 Federally-defined industry titles and cluster names can be esoteric for people not engaged in economic development and industry research. Identify several local employers to provide context for industry and cluster data. Identifying local employers is also helpful for providing contacts to companies from outside the region considering investing in the community for peer-to-peer information sharing. Include data on local sales, employment, and purchases if local employers are willing to share it. This information can be critical for potential suppliers to these companies.
Here use EAPDD as a resource. Contact them to identify several local employers in your area along with their industry category and NAICS Code.
Once you have the NAICS code, you can find the cluster and subcluster it belongs by using the Traded Clusters Appendix or the Local Clusters Appendix. The easiest way to find this information is to search using the Browser's Search Function (CTRL + F for PC or CMD + F for MAC) and type in the code. Then press enter until you come across your code.

Then use a basic Google Image Search to find a company logo and you are ready to insert it into the report.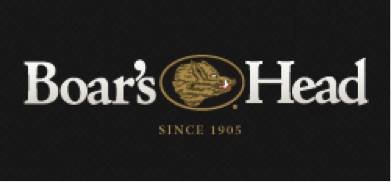 STEP FOUR
Workforce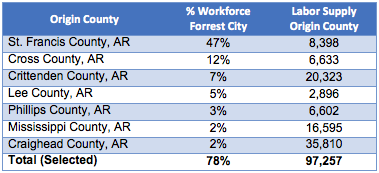 Access to an adequate supply of labor sufficient for current and projected needs is the most important criteria for most site selection decisions. Communities in metropolitan areas with high population density have little difficulty demonstrating an adequate labor supply. For rural communities, it can be more challenging. Since workers in rural areas are accustomed to traveling longer distances for work, compared to workers in urban areas, it can be necessary for local economic developers in rural areas to show workforce supply from multiple vantage points, such as local residents of working age, labor shed (workers who live within commuting distance of a site), or perhaps a specific distance (radius in miles) or drive time specified by a prospect company based on its experience operating in similar markets.
To get commute distances, we will use the US Census's OnTheMap website. Click the link to get started.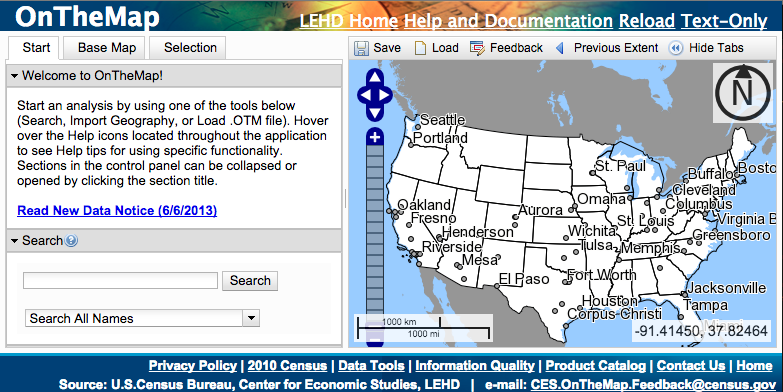 When the page loads, use the Search section to enter the name of your site, in this case Forrest City.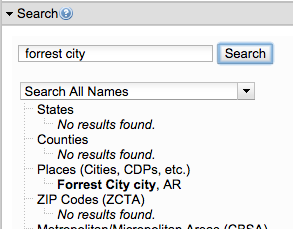 Click on Forrest City (under Places) and your map should adjust.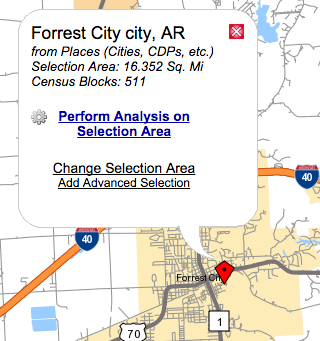 Click Perform Analysis on Selection Area and you will get a choice of analysis options.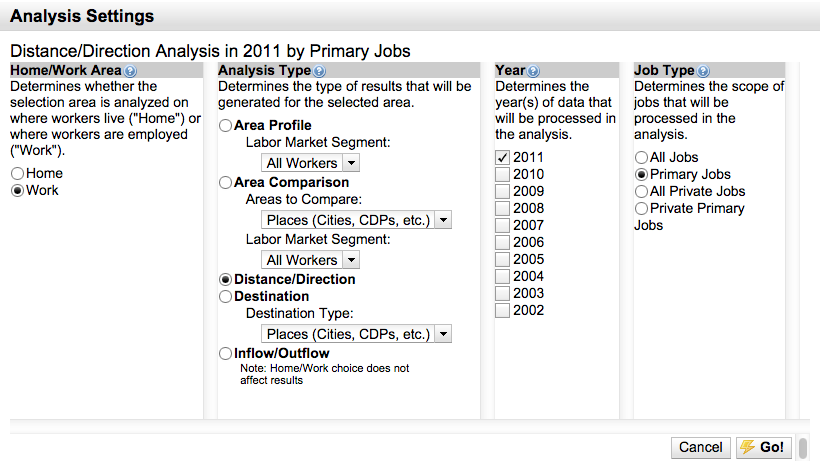 Set your options simlar to the above image. Since we are intereseted in employees of Forrest City, we choose Work under Home/Work Area. Also, since we are interested in the most recent commuting times, we will choose the Year 2011 and the Analysis Type of "Distance/Direction". Finally, let's focus on Primary Jobs. When you are finished, click Go.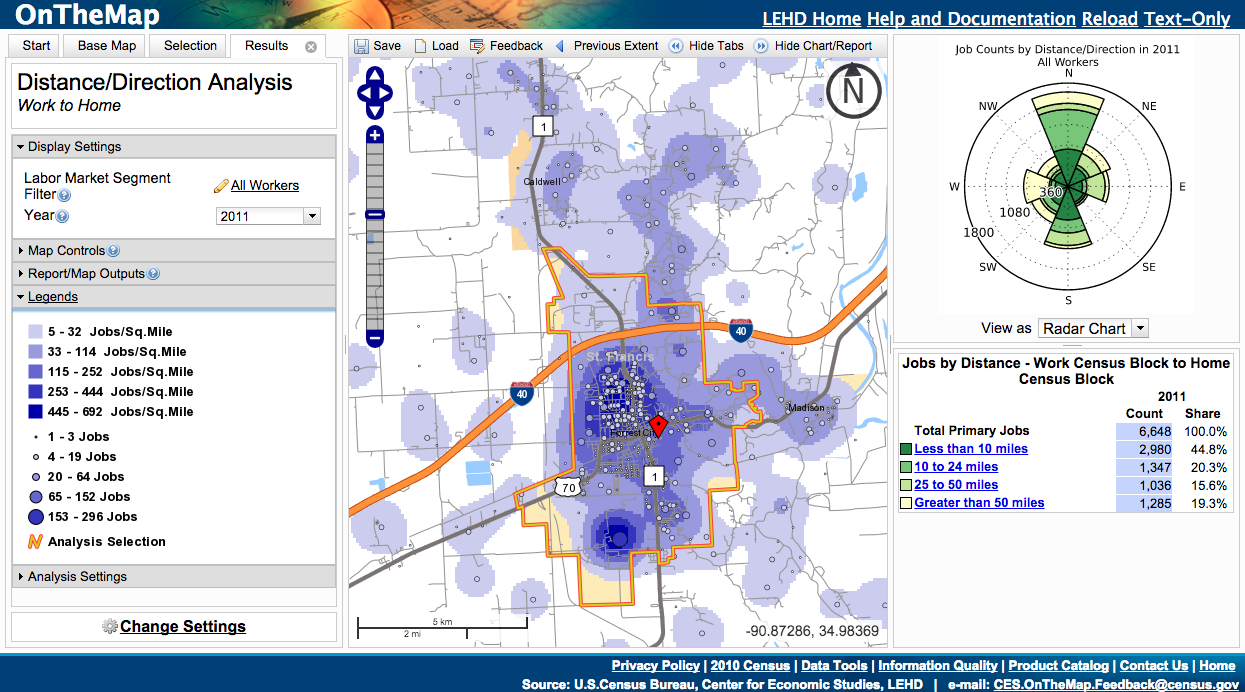 At the bottom right of the page, you will see commute times for workers categorized under primary jobs. Copy this data into a table.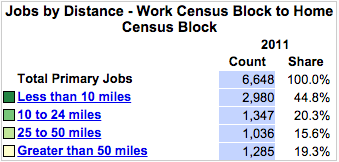 Before we add that table to the report, let's add a share of Manufacturing for context. In Display Settings, click All Workers > Industry Segment > Industry: Goods Producing.

Copy these new numbers, add the previous data, and now you have a table for your report.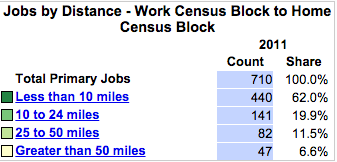 Now, at the bottom left corner of the page, click "Change Settings", to run another type of analysis.

Change the Analysis Type to "Destination" and the Destination Type to "Counties". Also change the Job Type to "All Jobs". Then click "Go".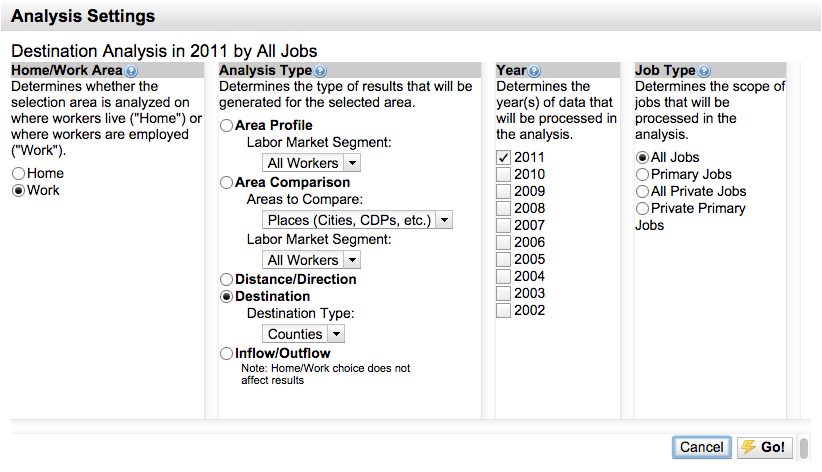 At the bottom right, you should see data for the number of workers that work in Forrest City and in what county they live.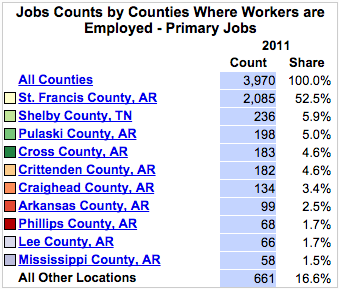 Another good table to add, is to show the total labor supply of the above counties as well as the percentage of that county's workforce in your town (this case Forrest City). To get this data, use the search feature to find the county, change the search settings to look at the Home Area as the level of analysis, and take note of the Total Primary Jobs in the Chart/Report section on the right hand side of the screen.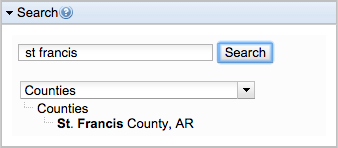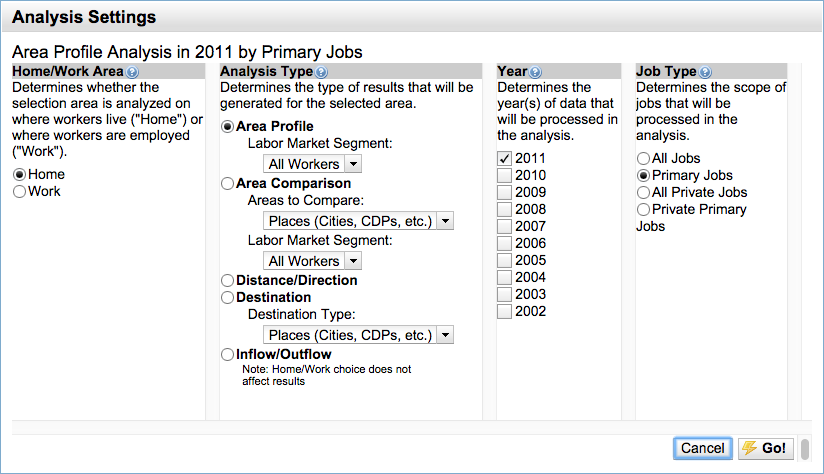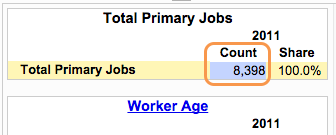 Now change the search location to Forrest City and change the analysis to look at Destinations by Work Area. Next, you will see job counts by counties where workers live. Use the above information to put into a table.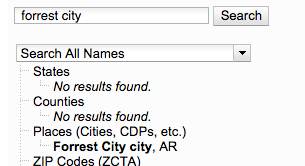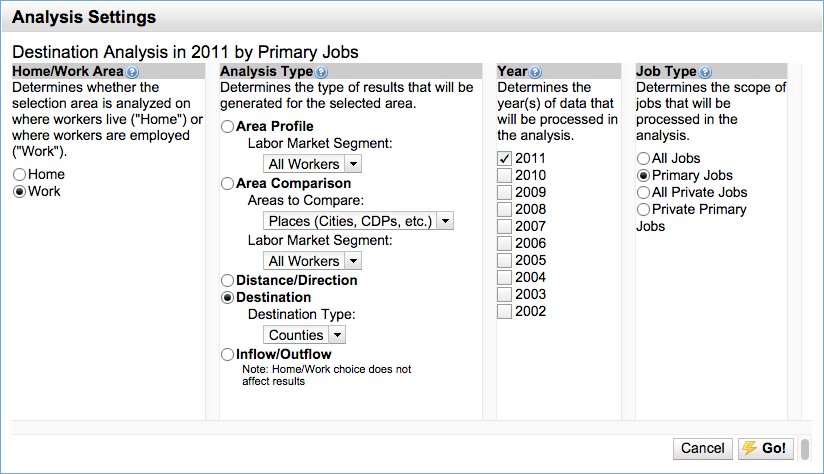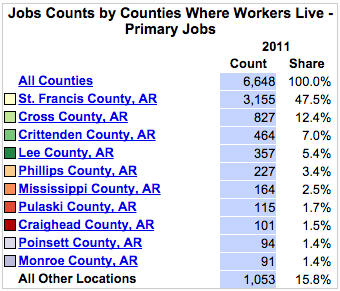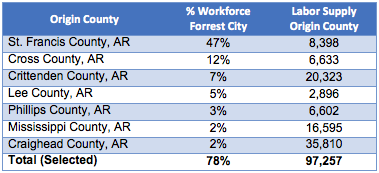 Total labor supply available to employers in Forrest City is at least 97,000 workers, based on the working population of counties within the city's labor shed. Depending on a prospect's specific data needs, this information can be further broken down by age group, wage range, education, and industry sector.
In addition to knowing the total number of workers available in the labor supply, employers considering locating or expanding in a community also want to know that there are sufficient numbers of workers in the occupations needed for their particular industry. Include information on current workers, as well as graduates of relevant programs at education institutions in the area to capture future supply. Start with data at the county level, where more detail is available, and expand to include additional counties in the labor shed if needed. Information can be presented on workforce relevant to existing industries already in the community or industries targeted for future development.
Table 6 Selected Occupations in St. Francis County

STEP FIVE
Other Important Notes
Recommended Use:
It is impossible to include everything that is needed for an economic development program focused on business development in this economic profile. Companies will request data that is customized for their unique needs. The goal of this economic profile document is to provide basic information about a local economy intended for analysts and decision makers unfamiliar with the community. Further, this profile is used to demonstrate a community's capacity to perform data collection and analysis if requested by a prospective employer not already operating in the region.
Contact Information:
At the bottom of this page are links and text for getting in touch with the EAPDD. Use that information to find a EAPDD staff member who can answer questions about information in the profile and conduct follow-up research as needed.
MORE INFO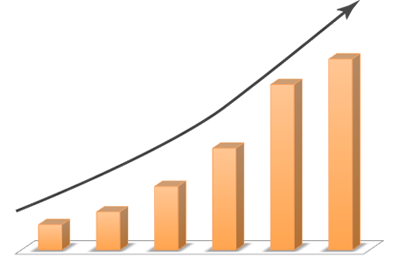 Useful links:
US Census OnTheMap
US Cluster Mapping Project
Bureau of Labor Statistics Data Tools
US Bureau of Economic Analysis